RFG roarforgood
July 14, 2023
RFG: Unleashing a New Vision of Fashion with Purpose
Introduction:
Welcome to the official blog of Roar for Good (RFG), where fashion meets purpose! We are dedicated to embodying the essence of goodness, quality, and ethics in every product, service, and interaction. At RFG, our goal is to become a brand that customers can trust on multiple levels, from the superior quality of our offerings to the care we take in treating people and protecting the planet. Join us as we share our vision and showcase how we're making a positive impact on the world of fashion.
1. Our Commitment to Sustainability:
At RFG, we believe that fashion and sustainability go hand in hand. We're proud to introduce our footwear collection made from single-use plastic bottles (PET bottles). By transforming these bottles into fashionable footwear, we contribute to waste reduction and a cleaner environment. Learn more about our innovative process and the positive environmental impact it brings.
2. Bamboo Fabric: A Sustainable Choice: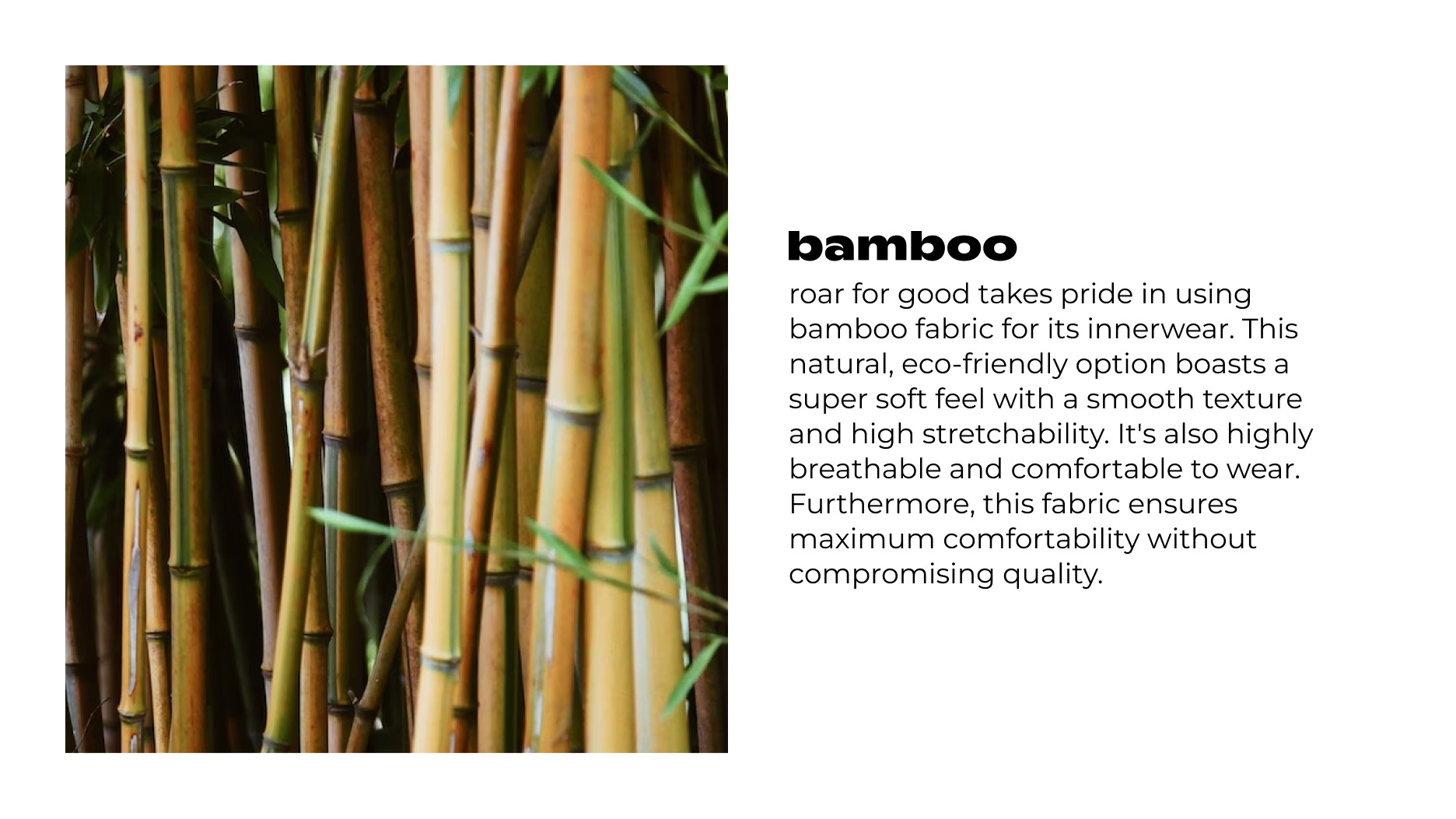 Discover the comfort and sustainability of our innerwear collection, crafted from bamboo fabric. We'll explore the remarkable properties of bamboo, including its breathability, moisture-wicking abilities, and natural antibacterial properties. Dive into the world of eco-friendly textiles and embrace a more sustainable approach to fashion.
3. Plastic-Free Packaging: A Greener Choice:
We're committed to reducing our ecological footprint by using plastic-free packaging. Explore our innovative solutions that focus on reusability and minimizing waste. From reusable materials to clever designs, we'll showcase how our packaging aligns with our brand's values and contributes to a greener future.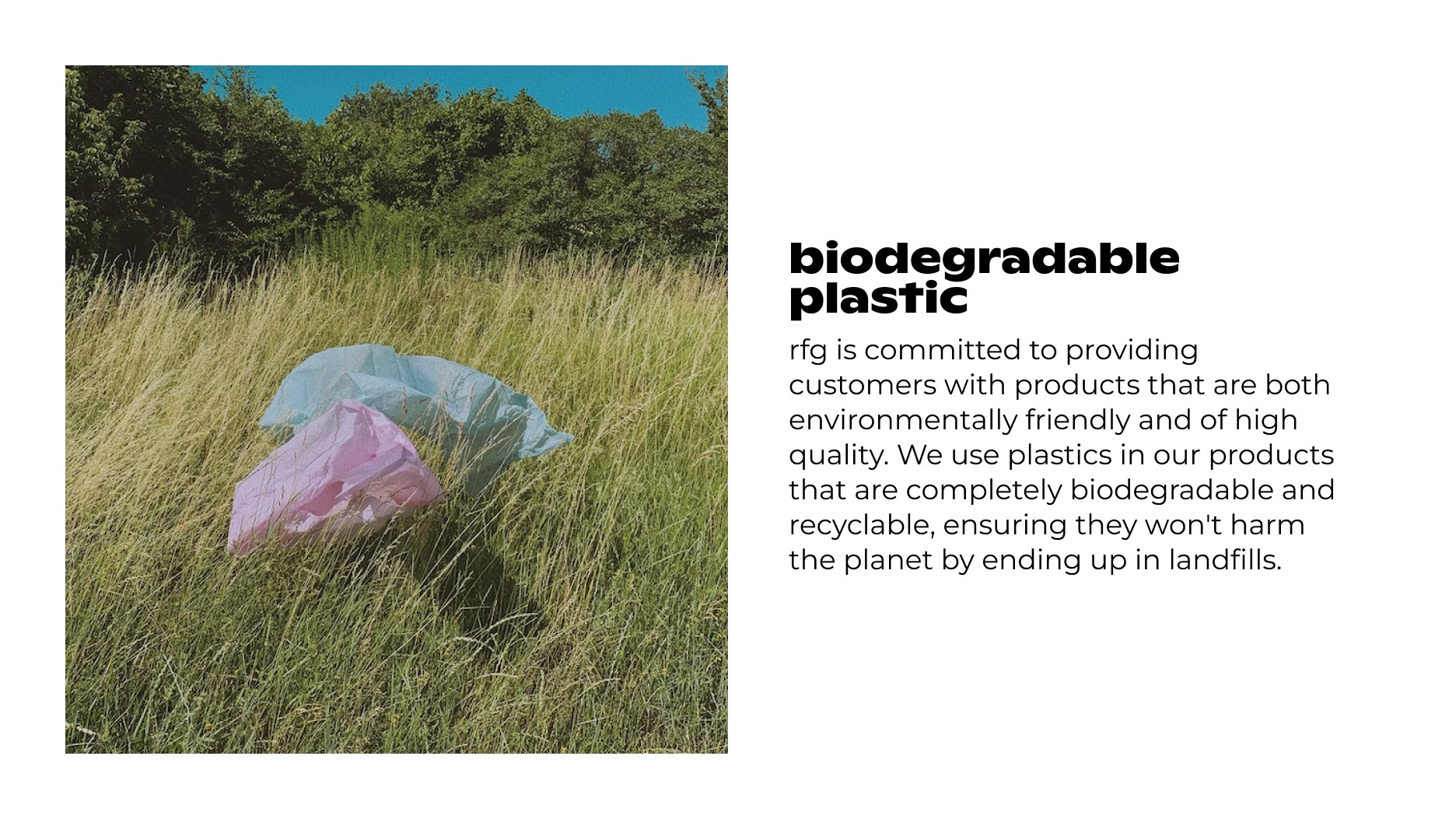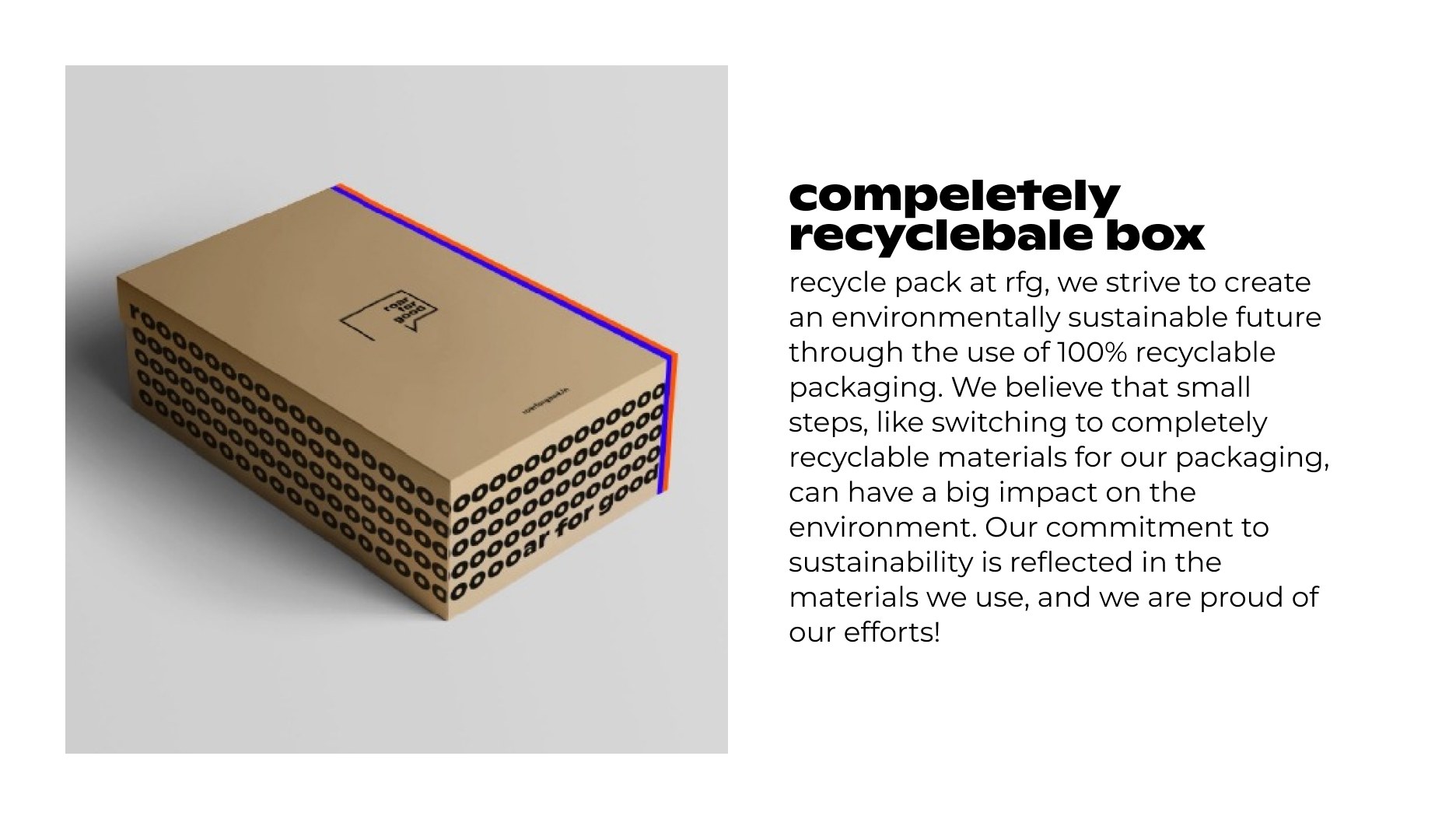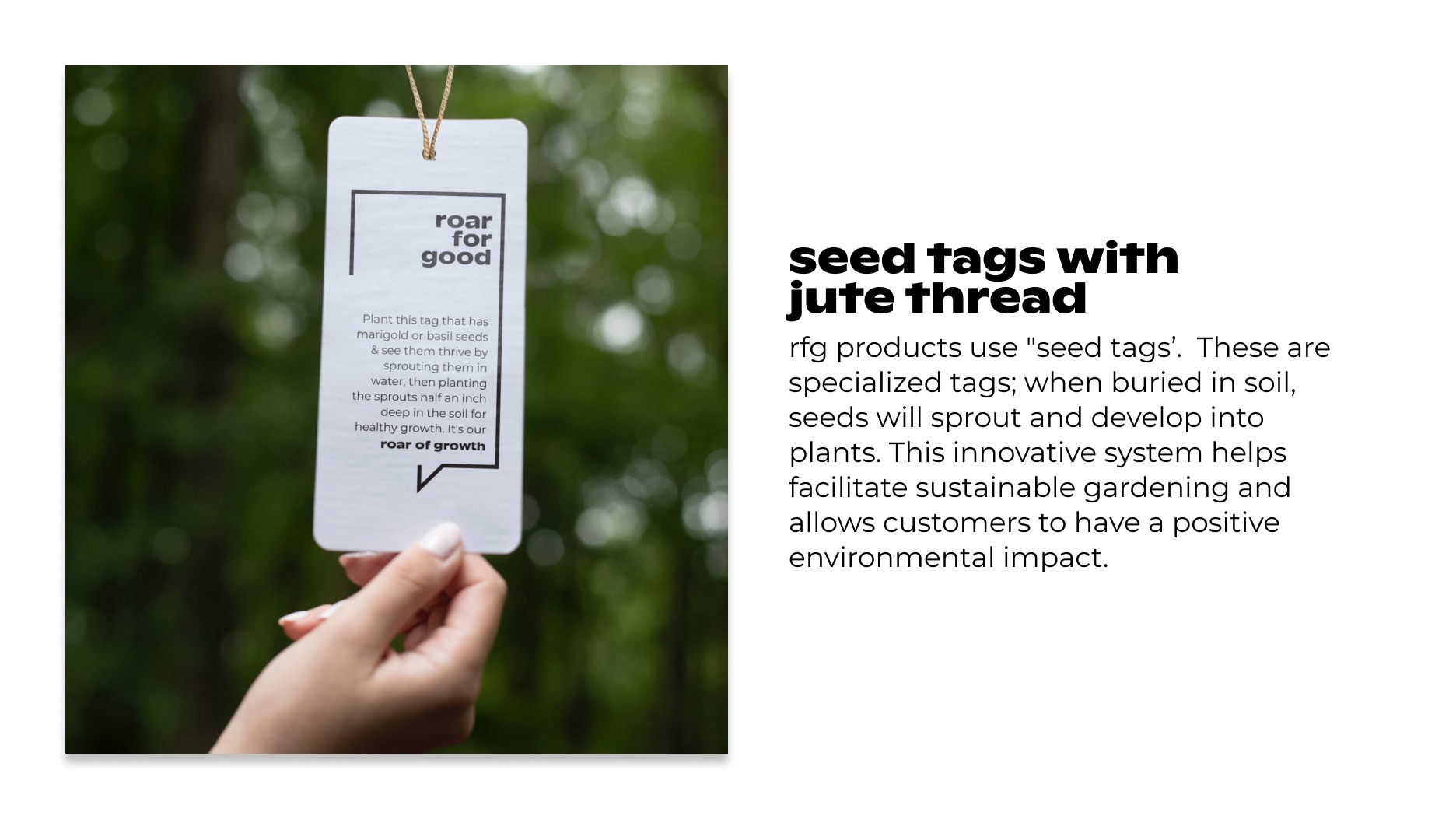 4. Seed Paper Tags: Growing a Sustainable Future:Join us as we unveil our seed paper tags—a unique and eco-friendly initiative. Learn how these tags, when discarded, have the potential to grow into plants, ensuring they don't become a burden on the environment. Discover the beauty behind seed paper and witness how our commitment to sustainability extends to every aspect of our brand.
5. Planting Trees: Growing Together:
At RFG, we believe in giving back. For every purchase above 2000 Rs, we are proud to plant a tree. Explore our tree-planting initiatives, the positive impact it has on local communities and the environment, and how you can be a part of this meaningful movement. Together, let's grow a greener and healthier planet.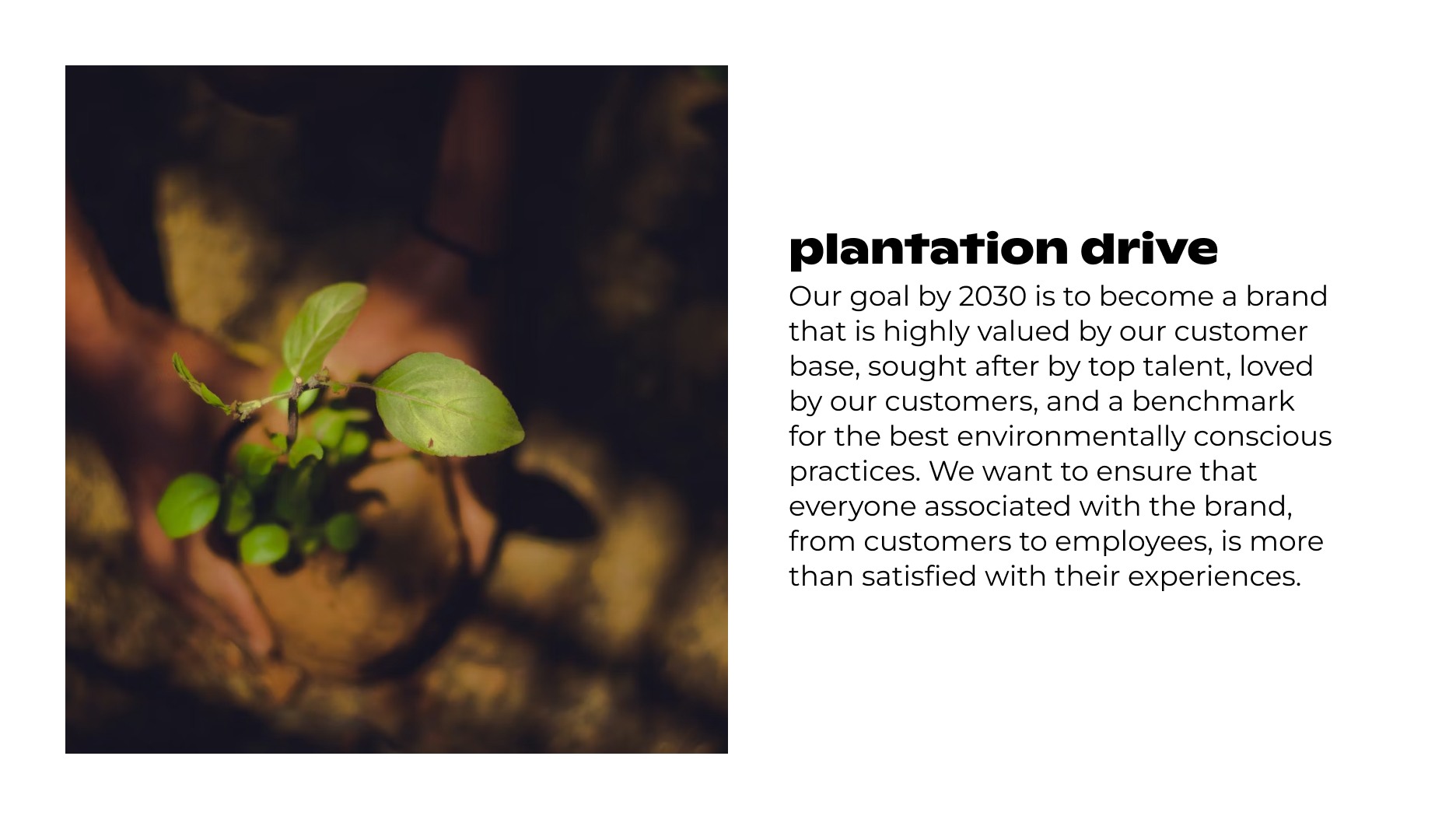 6. Introducing our Performance Range:
Experience the perfect fusion of style and functionality with our performance range. From active day-to-day wear to gym and performance wear, we've designed a collection that supports your active lifestyle without compromising on fashion. Discover the cutting-edge materials, innovative designs, and versatile pieces that empower you to embrace both fashion and fitness.

Thank you for joining us on this journey towards a new vision of fashion with purpose. At RFG, we're committed to reflecting goodness, quality, and ethics in everything we do. From sustainable footwear to bamboo fabrics, plastic-free packaging, seed paper tags, and tree-planting initiatives, every decision we make is driven by our vision of creating a lifestyle destination steeped in purpose. Embrace RFG and be a part of our mission to make a positive impact that touches every life we grace. Together, let's roar for good and redefine the world of fashion.